Overview
Yola's Website Builder is Easy, but it Comes at a Cost
With a first class support system in place, a fully functional and confusion free web building interface, Yola is definitely one of the website builders you should put in your shortlist.
Their template range doesn't run into the thousands like many other builders, but out of the 200 that they do offer to customers, you will be able to find a template that suits your business nice. You will also experience a fast and pleasant building experience when using Yola, which makes this specific builder a great choice when looking to get your business online.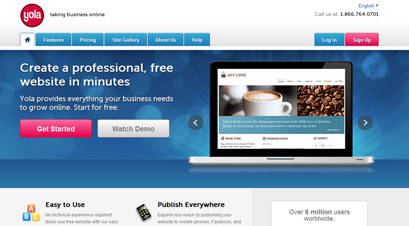 The only real drawbacks come in the form of prices which can run high, and if you are looking for the more advanced features in website building, then it could pay to look elsewhere.
Why Choose Yola?
Basic & Easy To Work With
Truly Incredible Support
SEO Tools
More on Yola below…
Templates & Designs
Limited Options if you Want to Create a Free Website
Selection – Yola has a decent amount of templates, but less than some of their competitors and much less if you are using the free version.
Customization – If you're using a free template, you may or may not have the option to customize the background or banners of your page.  Often you may have the option of one or the other, and in some templates you can't change either one.  Here Yola definitely falls short.

Multimedia – Yola offers several photo galleries, YouTube and Metacafe videos, flash plug-ins, as well as an MP3 player.
Check out Yola's Website Templates
Visit Yola
Features
Yola's Extras Add Oomph to Your Site
Social Media Integration
Yola offers seamless integration with major social media platforms, including the option for onsite Facebook commenting.
Widgets
You'll find an impressive range of drag-and-drop widgets (such as contact forms, blogs & appointment scheduler) which are really easy to use.
SEO Freindly
Yola offers just about everything you need to make your site SEO-friendly, like meta, title & description tags, as well as comprehensive SEO tutorials to help you maximize your potential.
E-commerce /
Online Store
Yola's online store is pretty advanced; they did not create their own builder though, they use ecwid, so designing your store is different than designing the rest of Yola.com websites. The one issue with the online store is that you gotta pay for it on top of your paid packages, but you will get a powerful tool in return.
Mobile
Only with Yola Silver, the steeper paid package.
Monetization
You can monetize your website with Google Adsense, and Amazon offers Amazon EC2 for advanced developers.
Visitor Statistics
Use Google Analytics…Yola Silver comes with the Yola tracking system but it only stores data for 30 days.
Custom Domain/E-mail
Only with paid plans, and email comes with an extra fee.
Yola Style Designers Community (Earn Money as a Template Designer)
For tech savvy customers and designers, all you need to do to start making money is: follow their design guidelines, terms and conditions, and submit a professional & unique style designed by you, then get paid for it!
Visit Yola
User Friendly
Yola Makes Designing Your Site Stress-Free
Yola is user friendly for both personal and business websites, and the drag-and-drop feature is quite nice. Plus, you won't experience annoying delays and lags because of Yola's site. As soon as you want to make a change, it's done.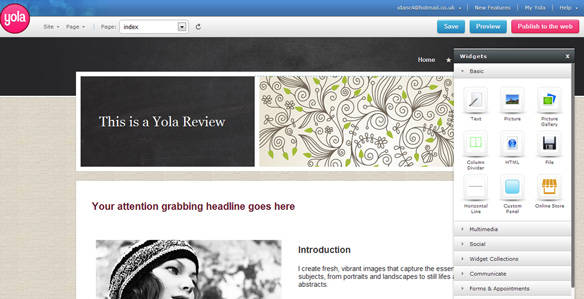 Yola's main advantage is that the interface is calm and uncluttered, making designing much less stressful than sites that offer a lot of customization options and features.
Visit Yola
Pricing
Building a Yola Website Will Cost you
As mentioned before, the free package lacks a lot of customization options.  And even with the paid packages, you still have to pay an additional fee for things like customized email and the online store.  As such, Yola's pricing comes out steeper than it's competitors when offering, at times, even less.
Easy-to-Use Sitebuilder
Custom Domains
Advertising Credits
$50 Google AdWords credit
$75 Google AdWords credit
Premium Styles & CSS
Mobile Publishing
Fotolia Stock Images
Visit Yola
Support
Yola Will Help You Through Every Step of Building Your Website
Customer Support – Yola offers a 24/7 online customer support, and quick and
prompt telephone support for even their new site users. This is Yola's biggest advantage over their competitors, and a major benefit.
Interactive & 'How To' Videos – Make use of the various tutorials on the website and interactive videos to address any kind of issues you may have.
Community Forum – Yola offers an online community    forum for making enquiries and clarifications with other, more experienced users.
Yola Blog – With tips and site updates.
Yola TV – Yola TV has an impressive roster of tutorials, interviews with leaders in the field, and news on all the updated Yola.com features.
User Guides – Yola offers coherent guides on a variety of topics which, especially if you are a first-time user, you will find very helpful.
Visit Yola
Summary
PRO'S

CON'S

Ease of use
Customer support
Page level passwords
SEO tools
Multimedia
Social Media integration

Expensive compared to other builders
Advanced features only available for Silver members
Emails attract additional costs
SEO works best for Premium customers – Trying to switch from free version to paid version results in loss on links and ultimately ranks lower in search engines, so it's better to start as a paid customer.
Overall, Yola is definitely not the best deal financially, and its range of services are limited. Yola is really for people who are overwhelmed by the prospect of designing a page and are willing to forego certain features for ease and comfort. Customer support is far better than other website builders, so if you are looking for assistance every step of the way, Yola may be worth considering.
Like Yola Review? Click here to create your own website for free
Visit Yola
Users Reviews
(2)
Read Testimonials & Reviews of yola or write your own
User Score
(based on 2 reviews)
4.7
More
Showing Reviews 1-2 out of

2
"Really Awful."
September 07, 2013 | by
Yola
|
5.8
More Details
Pros
Not too difficult to use once you get the hang of the setup.
Cons
Support is unhelpful, not knowledgeable of own product.
Misinformation in site tutorials.
User interface a bit discombobulated.
Summary
I have had the worst experience ever with Yola. I have spent hours online and on the phone (no exaggeration) with their customer support (which seems to be overseas) going round and round trying to get help with something really simple. Not only do both the online and phone customer service people simply read (or type) a generic script in response to questions, they also don't seem to be at all familiar with the information on their own website.
In addition, there is outdated and downright incorrect information on their site. In regards to a simple task I needed to do (use a previously purchased domain name with the site I made with Yola), the tutorial on their site directed me to use the free version of an unconnected, outside company. When I had trouble with this, customer service was unable to help me and suggested I contact the outside company (which has no relationship with Yola). I did and was informed by the company's customer service that they no longer offer the service Yola refers to.
Sigh! Anyway, this is the worst experience I've had with a a company in a long time and cannot recommend enough that you steer clear of Yola.
"Not a reliable email source!!"
|
3.5
More Details
Pros
Can get through to support via phone M-F
Cons
Email very limited
takes a long time for support to help out on email
Summary
I have been using yola for several years for my web site. When they offered email, I added that, also. I found out the hard way that if you do email blast to your customer base and it is over 500 emails a day, they shut you down without any notice, or that is what they did to me.

I was told that it is all automatic and they did not have control to change it because they use a third party source.
I explained it was not SPAM and only emails to my customers relaying time-sensitive information like pricing and program changes. It took them three days to sort this out,. I got an email from their support team saying all is fixed and I can continue to use my yola mail, not so.
Three days later it is still not working. I called back and was told to give them another 48-72 hrs to fix. So another two to three days or a total of 5-6 days not being able to communicate with my customer base.
NOT A RELIABLE EMAIL SOURCE, in my opinion.


Did you try
Yola

? Write a review
Yola doesn't suit your needs?
Check the Highest Rated Website Builders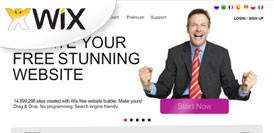 Wix Review Score: 9.8



Site123 Score: 9.2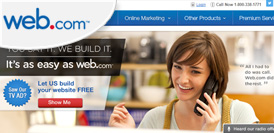 Web.com Review Score: 8.9