Overview
Weebly is the Easiest Website Builder on Earth
Over the years Weebly have tweaked the service they offer to incorporate everything a user needs to build and publish their own business website. With a selection of handy and helpful tools, and one of the easiest to use builders you will experience a stress-free and painless process from the very first click.
If you are looking for a web builder that you can hit the ground running with, then Weebly is your best bet.
Why Choose Weebly?
Easy-To-Use
100s of Templates to Choose From
Great User Interface
What else does Weebly have to offer? Keep scrolling….
Templates & Designs
Well-Done, Beautiful Free Templates
Selection – Weebly has a really nice selection of templates and they look fantastic.  They're organized into categories that are kinda random, but every theme is chock-full-of lovely, so it's no big deal.
Customization – Tons of it.  You can tweak most aspects of the template and if you really want to go crazy, you can code your template from scratch.  And if you know what you're doing, use the advanced editor an muck around with CSS and HTML with ease.
Multimedia – All the features you'd expect: photo gallery, YouTube, audio…you can edit photos straight from Weebly which is nice and convenient, especially if PhotoShop crashes your computer all the time…(Yes, I am referring to myself).
Websites built with Weebly
Visit Weebly
Features
Find Out What Weebly Can do for You
Social Media Integration
Weebly's biggest weakness is the lack of tools to integrate with social media platforms, there isn't an easy plug-in like other builders.
Widgets
Online polls, Google Maps, forums…Weebly has plenty of add-ons to improve your site, with the option to bring in whatever external widget you fancy.
SEO Friendly
Very much so. Tags are all customizable at page level, so are alt texts. Weebly sites don't have to worry about being SEO-screwed by their provider.
E-commerce/Online Store
The online store is OK, there are only 2 payment options (PayPal and Google Checkout) and you can only do basic things with it.
Mobile
Weebly will do it automatically for you, by converting your page to a smart-phone friendly one.
Monetization
Google AdSense + Banners. BUT Weebly takes a cut. A big one. 50% to be exact.
Visitor Statistics
Weebly has their own traffic tracker which works well, or you can use Google Analytics.
Custom Domain/E-mail
With paid packages. You can get tons of emails and even your own subdomain.
Blogging Platform
Weebly has a great one, making it easy to use content marketing & other blogging ideas.
Embedded Documents
You can take external documents in different file formats and display it as you like on your web pages. Cool.
Visit Weebly
User Friendly
Weebly Presents: A Stress Free Website Creation
I know I already mentioned this, but working with Weebly is just obscenely easy.   All your options are laid out nice and clean on a menu up top, and you just drag and drop everything on your page. No other site builder (in my humble opinion) has such a phenomenally well-organized interface.  Really, somebody should give Weebly a pat on the back. Or a hug.  Because they got it right.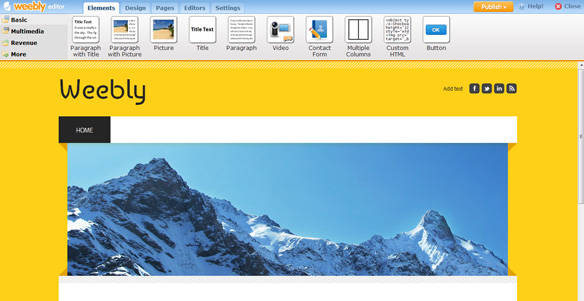 Visit Weebly
Pricing
Create Your Own Website Without Breaking Your Bank
Weebly's pricing packages are great, and a much better value then a lot of their competitors.  Their free package comes with just a teeny Weebly ad and footer. All premium packages come with a 30 day money back guarantee.
Site Building Tools
Professional Themes
Customer Support
Traffic Stats
Custom Domain Name
Hosting
Custom Footer
Visit Weebly
Support
Let Weebly Help You With Your New Website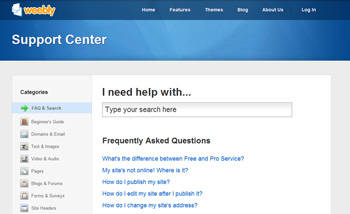 E-mail Support
Phone Support
Live Chat
Forum
Help Articles
Video Tutorials
Blog
The Weebly support team answers emails quickly and competently. Plus, they offer live training sessions (and recordings of previous live training sessions) which are super handy.  The blog is not updated frequently however and is more sparse than other builder's blogs. Overall though, the support is quite good.
Visit Weebly
Summary
PRO'S

CON'S

Easy to use
Great Templates
Mobile Friendly
Replicate your websites at no costs
Visitor Statistics
Multiple dashboards
Domain based e-mail
Monetization
Manage up to 10 sites

Poor Social Media Integration
Best for simple e-commerce sites
Only two payment options are available for E-commerce
I know it's not nice to play favorites, but Weebly hit a soft spot with me. Designing my page was fun, easy, and sneakily powerful. The only reason not to sign up for Weebly like, right now, is if you're looking to do some hardcore e-commerce, since that's where Weebly falls short. But online store aside, Weebly is a phenomenal builder. Don't believe me? Sign up right now and tell me you're not in love…
Like Weebly Review? Click here to build your website for free.
Visit Weebly
Users Reviews
(10)
Read Testimonials & Reviews of weebly or write your own
User Score
(based on 10 reviews)
8.3
More
Showing Reviews 1-5 out of

10
"Weebly CMS"
March 07, 2015 | by
Weebly
|
7.8
More Details
Pros
Interface
Performance
Free Plan
Cons
Support
Documentation
Community
Summary
We love Weebly for simplicity, its so easy to use. There's still long way to go to be the major CMS on the net but the team is doing good job. Last few months editor get more features, community of users seems to grow also. Support and documentation is really bad. Market place with designs and plugins would be nice too :D If you like Weebly there's few places where you can get Premium Themes and Web Designs services like ours under http://modernwebthemes.com
"Weebly works great for me, simple to use and good value"
February 14, 2015 | by
Weebly
|
8.6
More Details
Pros
Ease of use
Excellent features
Live chat support works well
Cons
Domain names expensive from weebly.
more features required for ecommerce
Summary
I did lots of research before selecting Weebly, most reviews were good and I haven't been disappointed. Easy to Use and you can build a good looking site relatively quickly. Sites also look good on mobile devices. Support and live online chat very useful and responsive.
"Best Drag and Drop CMS Out There"
October 09, 2014 | by
Weebly
|
8.0
More Details
Pros
Everything Drag and Drop
Header and Background Images editing options
Quality Code
Cons
No Real Support
No Documentation for Developers and Designers
No Plugins
Summary
Yea Weebly have still long way to go but the quality of application and direction that its going... it cant be done better. This Year they get founding and start adding a lot of new options. Community of designers and developers need to grow to keep pushing designs. Overall everything else works great, best DD CMS on the internet
"Probably the most underrated website builder around!"
August 10, 2014 | by
Weebly
|
8.8
More Details
Pros
Great templates
Very, very easy to use website editor
Custom code editing makes editing finer aspects of site easy
Cons
Support could use an upgrade
Insufficient ecommerce capabilities compared to other site builders
Summary
I have used weebly since 2010 and I have nothing but good things to say about them. Their website builder is really all you need to build yourself a fantastic site and it can cater to most requirements. They offer a fantastic selection of templates that you can choose from and while you have limited creative control over how the template can be modified, you can still do wonders with them.

Weebly is great for any site that does not require overly technical editing. If you are looking for a mid to high end e-commerce setup, then Weebly probably wont satisfy you. In my opinion, the builder is best used for information sites or even blogs. I have currently setup my freelance writer portfolio site on Weebly and I am satisfied with the end result.
"WebsiteTonight to WEEBLY- Never Looked back! A+"
July 15, 2013 | by
Weebly
|
8.5
More Details
Pros
Easy to use
SEO Friendly
PRICING
Summary
Overall I have been really pleased w/ Weebly.
Did you try
Weebly

? Write a review
Weebly doesn't suit your needs?
Check the Highest Rated Website Builders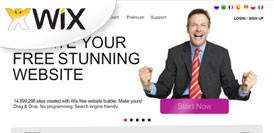 Wix Review Score: 9.8



Site123 Score: 9.2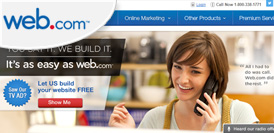 Web.com Review Score: 8.9