Overview
A Solid Web Builder That Comes at a Price
Sitelio offer you the chance to build and create elegant and stylish looking website for your small business, whether you have only just started to learn how to use a computer or have a little knowledge – you are in good hands. With extra features and options to upgrade, the flexibility of Sitelio is one that boasts easy editing and powerful stats that can aid to improving your site step-by-step.
WHY CHOOSE SITEY?
Solid Features
Good Support
Easy To Use Editor
Want to know if Sitelio is right for you?
Let's check it out…
Templates & Designs
Good Designs With a Fair Range of Templates
Template Selection – Sitelio offers a decent amount of templates which can be used for a range of businesses niches, whether you are a plumber, technician or web developer, there is something for everyone.
Customization – With an easy to use interface, packed full of your basic web developing features there is the ability to fully customize the theme you have chosen.
Multimedia – If you rely on heavy graphics and the best designs then Sitelio probably won't wow you with video designed sites and amazing visualizations.
START NOW
User Friendly
A Strong Editing Platform For Any User
Being able to use an editor to its fullest is one of those big selling points for a website builder, and Sitelio offers one of the most appealing design layout for basic users to pick up.
With large buttons, that have been carefully laid out in a main navigation toolbar at the top of your screen it's easy to pick out page elements and features that you want to add to your site. Add to that the easy drag-and-drop tool which will help you move and align features on your page, anywhere you like, it makes Sitelio the ideal user-friendly interface.
START NOW
Features
Nothing Amazing but Good Basic Functionality
You will find a great host of features available when you sign up for an account with Sitelio, but you will find that a lot of features are locked on the basic package, urging you to upgrade to a higher tier in order to unlock the likes of SEO tools and eCommerce solutions.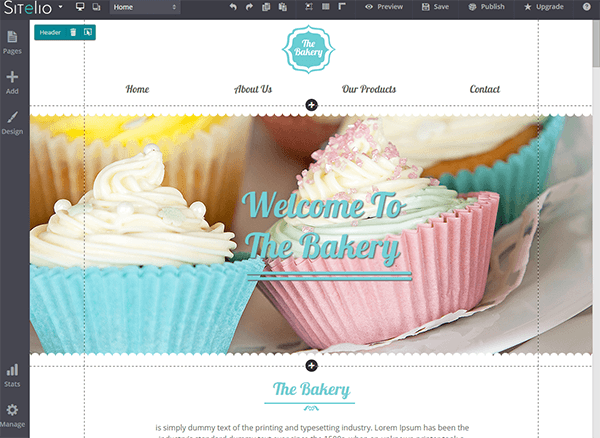 Whilst they don't offer the latest mind blowing features that could lift your site to a new level, they do offer all the basic features that you would hope to see as part of a web builders package, so you can expect to get hosting as standard, along with domain registration, galleries and analytics integration.
Social Media Integration
Free Ad Credits
Each monthly plan offers free ad credits such as Google Adwords, to help you market your new site.
SEO Friendly
SEO Help is only available on the captivating and outstanding plans.
eCommerce/Online Store
You can take payments on the captivating and outstanding plans.
Mobile
Each plan offers mobile sites and support.
Monetization
You can add Google Adsense to your website.
Visitor Stats
Visitor tracking and stats are provided, you can also add Google Analytics code.
Custom Domain & Email
All plans offer a custom domain and email.
Free Hosting
Free hosting is offered across all plans
START NOW
Pricing
Expensive Plans and Lacking Features
One area that Sitelio falls down on is the pricing structure as we would be lying if we said it was competitive with other site builders. For instance, their basic package starts at £10.95 per month which is virtually double the competitive price, and for that price you don't get a great deal of features thrown in.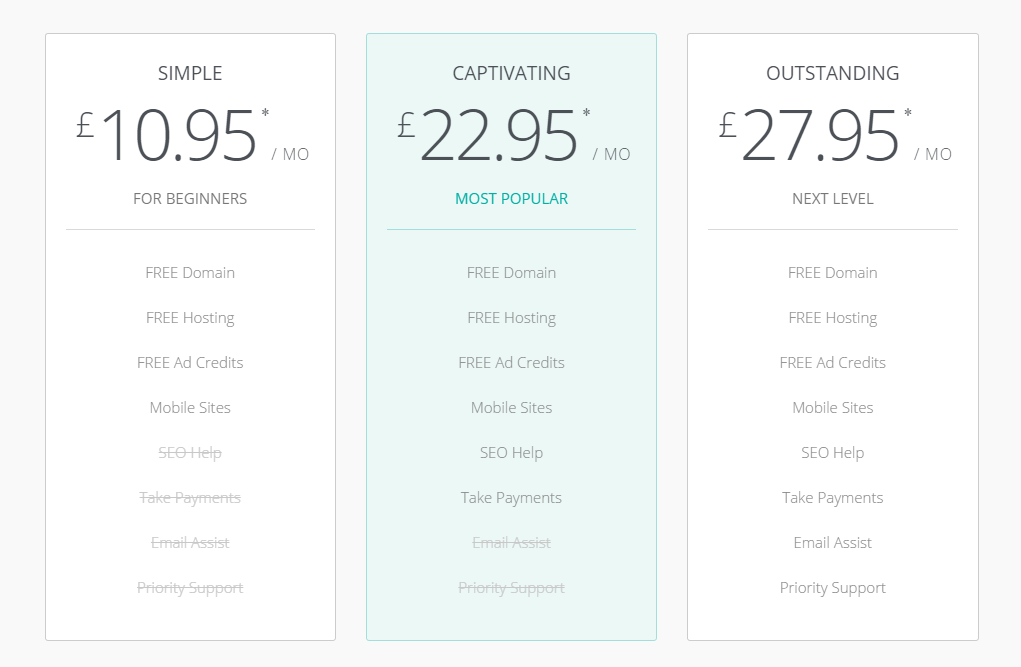 If you want to experience the most popular plan that does include SEO tools, mobile sites and eCommerce functionality then the price is a massive £22.95 per month which is more than a lot of web builder's premium plan. Of course you don't need to jump right into a contract with them, they do offer a 14 day free trial so you can test the water and see if you think it is good value for money.
In order to appeal more, Sitelio need to revise the prices to be more competitive.
Site building Tools
Ad-Free
24/7 Customer Support
Free Domain Name
SEO Help
Take Payments
Email Assist
Priority Support
The prices are taken from Sitelio.com
START NOW
Support
Decent Support Options but No Direct Contacts
One area that they do manage to pull themselves back up is through the support they offer to customers. Therefore you can expect 24/7 support, so if you every experience hosting issues, website issues or need to ask an urgent question, agents will be on call for you.
They also have a presence on Google+, Facebook and Twitter where you can reach out to them.

Once you have signed up and logged in to your account there is also a support section where you can read through FAQs, fill out a contact form, and search through a knowledge base. There is no sign of a direct email address, ticket system or a phone number.
START NOW
Users Reviews
(1)
Read Testimonials & Reviews of sitelio or write your own
User Score
(based on 1 reviews)
0.2
More
Showing Reviews 1-1 out of

1
"DON'T USE THEM!"
May 09, 2016 | by
Sitelio
|
0.2
More Details
Cons
Bad Service
English a 3rd language if you are lucky
reoccurring charges
Summary
They are hard to get a hold of. Once you are on the line with them, they hang up or play a high pitch noise to get you off the line. I wish I was kidding. This is a BAD company to work with.
Did you try
Sitelio

? Write a review
Sitelio doesn't suit your needs?
Check the Highest Rated Website Builders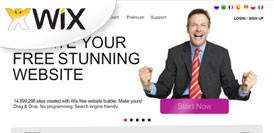 Wix Review Score: 9.8



Site123 Score: 9.2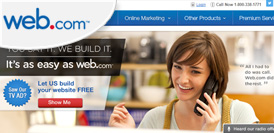 Web.com Review Score: 8.9