Overview
A Form Builder With Advanced Users in Mind
FormSite is pretty much a household name for marketers, with many people around the world using them over the past few decades. They have built up strong relationships with many Global companies, which gives you a taste of just how good this company is at form building.
They aren't perfect however, especially if you are a beginner or small business looking for a quick way to build a form. A lot of the tools and features are aimed at advanced users with a certain amount of experience behind them. There are no wizards, or fancy drag-and-drop tools here to help you out.
Medium to large companies, step right in…
Why Choose FormSite?
Trusted, professional
Good for medium-to-large businesses
Want to know if FormSite is right for you?
Let's check it out…
Features
Features Limited In Free Accounts
FormSite offers its Free accounts a very limited number of forms and features.
Number of Forms
Add Attachments
50MB space is available for attachments
Multi Page Form
You can have multiple pages, but are limited to 50 items per form.
Form Rules
You can use form rules to show/hide fields on your form and to skip pages with page rules.
Reports
Easily generate reports in a variety of different formats, including item summaries and cross-tabulation (Question A vs. Question B)
Export Data
CSV or XLS, plus a proprietary file format for backup or re-importation.
Spam Prevention
CAPTCHA not available at the Free level.
Accepting Payments
Payments not available at the Free level.
Stats & Analytics
No stats are available as to vistors, etc.
3rd Party Integrations
Integrates with Google Spreadsheets, MailChimp, SalesForce, Server Post, API Access
Ads
Ads are displayed on Free and Deluxe levels.
Visit FormSite
Summary
FormSite has a solid reputation amongst staid institutions like Harvard, Yale, and Stanford and it shows. Professional, no-nonsense, it will serve larger businesses with a decent, but not unlimited, form builder for their use. If you are looking for prestige, you might consider signing up with FormSite. Otherwise, you should probably look elsewhere for a more feature-rich and rewarding experience.
PRO'S

CON'S

High-profile clientele
Good email support

Plans limited at all levels
Uninspiring templates
No eCommerce at first 2 levels
Visit FormSite
Users Reviews
(3)
Read Testimonials & Reviews of formsite or write your own
User Score
(based on 3 reviews)
7.3
More
Showing Reviews 1-3 out of

3
"Great value and easy to use"
March 12, 2016 | by
FormSite
|
7.6
More Details
Pros
Easy to use
Free
Summary page
Cons
No cheap option for linking to PayPal
Summary
I am a total beginner with form building and found this site easy to use. It is great that you can build and use 5 forms for free! I also like that there is a summary page that tracks responses and associated data from each form completed 0 very handy. It would be nice to have a package option that allowed PayPal links with a cheap monthly fee (say $9). As it is the packages go from free to $14.95/month).
"Ok for a small project"
September 28, 2015 | by
FormSite
|
5.3
More Details
Cons
Only email support.
Very difficult to get an issue resolved when you can't speak to someone
"Formsite -- Love it!"
December 09, 2014 | by
FormSite
|
9.0
More Details
Pros
Feature-rich
Extremely flexible
Intuitive, easy to learn
Cons
Calculation function does not handle Boolean compares
Summary
We started with Infopath and found that wouldn't work without costly per-user Filler licenses. Then we looked at another form builder that shouldn't be considered commercial-class. For a very big price, it offers no conditional branching, no calculations, no pre-population with known data.

Formsite, in our minds, offers the best value-for-money. It has high end features at a low-end price. We definitely recommend it to anyone with basic understanding of form design.
Did you try
Formsite

? Write a review
Formsite doesn't suit your needs?
Check the Highest Rated Form Builders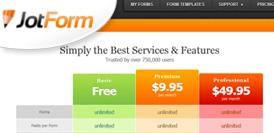 JotForm Review Score: 9.4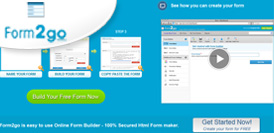 Form2go Review Score: 8.8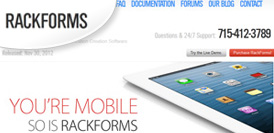 RackForms Review Score: 8.6